Incorporate FOMO Marketing into Ad Campaigns
Leveraging psychology to sell products and services is nothing new in advertising. Companies using songs or jingles, celebrity endorsements, and sale prices have been around for almost one hundred years. Smartphones, social media, and the competition for nano-second consumer attention spans are pushing advertisers to employ new concepts in marketing campaigns. FOMO or the Fear of Missing Out has become a staple for digital advertisers over the last decade in the pursuit of moving customers to purchase immediately. FOMO marketing can help increase urgency in your advertising campaigns.
What is FOMO?
FOMO popped up in the Urban Dictionary on October 2, 2006. Then in 2008, a Business Week article called "Today's Students: Living Large" described FOMO as the inability of college students to "turn down invitations to any party, dinner, or junket attended by anyone who might be a valuable addition to one's network—no matter the cost." The definition of FOMO has evolved over the last fifteen years.
Merriam-Webster defines FOMO as the fear of not being included in something (such as an interesting or enjoyable activity) that others are experiencing. Wikipedia's definition includes the words "social anxiety" and "regret or anticipation of regret".
FOMO's Connection to Marketing
Most people are familiar with the desire to own or purchase popular cultural items. Anyone who had to have a pet rock, be the first to own a pair of Air Jordan sneakers, or stood in line for a Talking Elmo Doll, knows a thing or two about FOMO.  What has changed is the internet and social media purchasing options combined with faster pop culture cycles. Shorter periods in which things are "hot" or popular increase social anxiety and regrets about a non-purchase.
Eventbrite reports nearly 7 in 10 (69%) millennials experience FOMO and the fear of missing out drives millennials to show up, share, and engage.
A survey by Strategyonline.ca shows, among those surveyed:
1. 64% surveyed said they experienced the (FOMO) phenomenon, 56% of whom were between the ages of 18 and 30.
2.       24% of millennials that have experienced FOMO, cited the biggest factor being "the feeling is the fear of losing social notoriety or not being seen as "in the know."
3. 60% of millennial consumers said they make a reactive purchase after experiencing FOMO, most often within 24 hours.
4. Parents were the most likely group to see the link between FOMO and their purchase intent and had a positive opinion of the sensation as a result.
How to Incorporate FOMO Marketing into Ad Campaigns
Countdown Clocks
Adding a specific time limit to an offer, price, or item. Davosa Watches incorporates a countdown clock for a 20% special offer adding a sense of urgency to purchase before it is too late.
Limited Supplies
Display how many items are left. Beko Appliances adds the number of refrigerator models in stock increasing the need to buy or miss out on the fridge a customer really wants.
Social Proof
Show the results. Nutrisystem weight loss plans effectively use before and after transformation photos, upping the "you can do it" factor.
Shopping Cart Abandonment Offers
Ask for the sale one more time. Pop-up offers before a customer closes the shopping cart can create the feeling of getting an even better deal now than later.
Competition Comparisons
Show clients what going with the other guy means. Redfin Real Estate skillfully displays a satisfaction scale for repositioning how competitors treat customers.
Price Change Alerts
Lay out the savings. In an effort to move customers to purchase, Amazon uses email alerts outlining price changes and saving.
Exit Intent Offers
Entice a sale before a webpage exit. Exchanging a 20% coupon for an email address is smart for companies and risk-free for customers.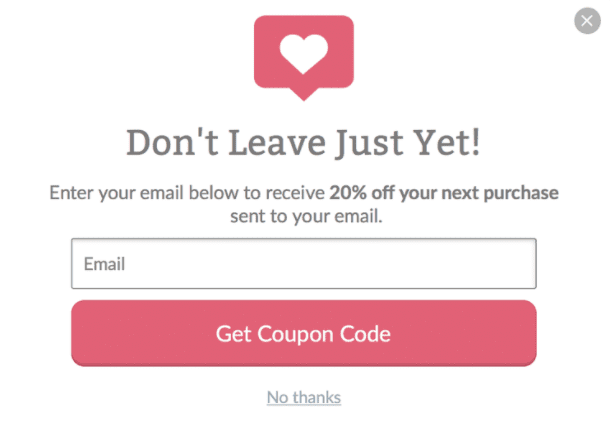 End Dates
Add the day the offer ends. To back up the last chance message, Positive Grid mobile guitar amplifiers display the end date in the image and in the ad copy.
Conclusion
FOMO marketing is a go-to tactic for many digital marketers today. Experiment with FOMO advertising messages to discover which tactic helps move the sale needle for your company. We caution clients to avoid using fear or anxiety marketing messages as the only sales driver. Furthermore, brands should never use misleading language or images when adding FOMO into the marketing mix.
Looking to add FOMO marketing to your company's advertising? Contact us today.
You may also enjoy this article: Website Design: Top Mistakes Companies Make